Mobile Responsiveness is a concept that has dominated discussions on web designing for the past couple of years. Yet there still are several enterprise websites which lack responsiveness and/or are not customized the ever-changing trends of mobiles and other hand-held devices. A probable reason for this could be a poor comprehension of what is mobile responsiveness and its advantages or rather its necessity.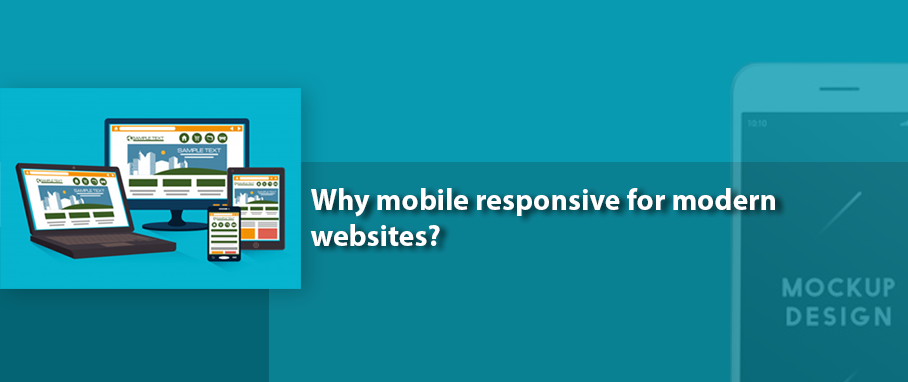 A responsive website will be able to adapt to any screen size or screen resolution in a uniform manner.
That is, users can browse a website from their mobile device, smart-phone and tablet and be presented with the same experience that they would while browsing the website from a desktop computer. An experienced website designing company in India will know where and how to make the difference. Want it to be simpler? Here are the primary benefits of a mobile responsive web design:
High Mobile Traffic: The increased use of smart-phones and the recent adoption of 4G networks have led to the rise in mobile traffic across India by huge margins. Leading media houses in India had reported last year that mobile phones contribute 79% of all web traffic in India. These new items and trends emphasize the necessity of websites to be mobile responsive.
Lesser Costs: It is pretty simple. A single responsive website requires a one-time investment instead of repeating the process twice for a desktop website and a stand-alone web application. Besides, different strategies, excessive resources and more maintenance will required if two different versions of the same website are developed. Responsive design's "one size fits all" approach makes it easier for developers, business owners and consumers.
Faster Web-Pages: The amount of time each web-visitor spends on a website is crucial to define the success of a website. A visitor should be convinced to comprehensively look through the website and hopefully get converted into a lead. If a web visitor leaves the site as soon as he or she visits the link; it doesn't make sense right? Especially, mobile users are always in a hurry. A website needs to be optimized for smart phones and tablets to generate faster web [ages and better browsing experiences.
Higher Conversion Rates: Combine the previous three points; that is high mobile traffic, lesser costs and faster web pages. What do you get then? More satisfied web visitors and higher conversion rates. How? The percentage of clients opting for a product or services offered by a company is much higher when they are browsing from their mobile devices. They make quicker decisions when compared with users of desktop-based websites who take a long time comparing your website with that of competitors. This once again highlights the necessity of a mobile responsive website.
Now, does your website have appropriate mobile responsiveness? Or, do you want to develop a new enterprise website that is responsive to mobile devices? Majestic People Infotech is an experienced web designing and mobile application development company that had delivered tons of responsive websites to several clients across India as well as the rest of the world. Reach out to us or pass us your contact details and we will get to you with an appropriate solution for your business.