The Healthcare Industry is thriving everywhere. It is perhaps the only industry which has never been affected by recessions and/or political events. Medical service providers, medical equipment manufactures and medical insurance providers are some of the companies thriving in this sector. Hospitals, manufacturers of medicines and pharmacy chains are a few examples. But do these companies have the time or resources to look after their IT operations? Such operations can refer to creating web presences, managing databases, developing software applications, defining brand identities on social media, and more. For a healthcare institution to meet these objectives, it is recommended to outsource these activities to an IT company in India. The advantages are: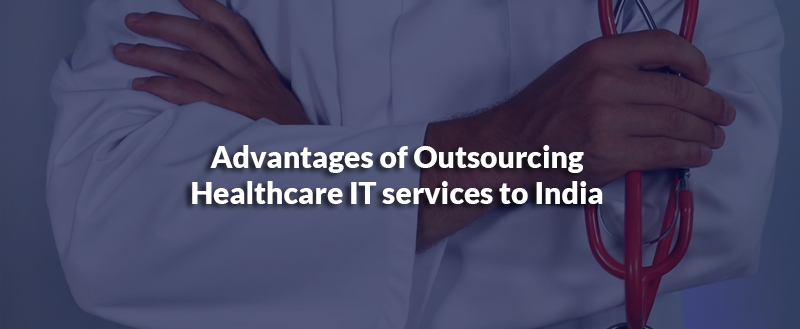 Lower Operating Costs: For healthcare providers in the United States, Europe and Australia, outsourcing healthcare IT processes to India will be save a lot of money considering the comparatively lower wages in India. Yet the presence of top-notch IT service providers in India ensures the maintenance of maximum quality at these lesser rates. Healthcare firms can reduce operational costs such as Infrastructure, technology, management, HR, power, rentals, and utilities by a large extent.
Faster Completion of Work with High Quality: By outsourcing IT services to India, the healthcare firm can concentrate on its core activities. This will save a lot of time, will ensure that IT services are competed as per schedule and yet retain maximum quality. The adherence to highest standards of quality is one of the biggest advantages in outsourcing IT related healthcare services. Indian companies that specialize in outsourcing have separate teams exclusively for that purpose. These teams will include experienced developers/designers, researchers, quality analysts, and project managers who will ensure that the work is completed as per approved schedules and there are completely no errors.
Delivery of Services Whenever Required: Peak hours and/or national holidays of workers in a healthcare institution will surely impact the time that could be assigned for IT operations. Yet an IT process outsourcing company in India can complete any amount of work in any time zone. Such companies have unique teams to work in different shifts that fulfil the IT process outsourcing requirements of clients from anywhere across the globe are fulfilled.
Sudden Requirements: There may be one-time or specific project based requirements for IT services. Examples include designing or redesigning the official website, promoting a particular event on social media and/or developing a software application for a particular purpose. It will not be possible to hire a full-time team just for these purposes. The wiser option will be to outsource these activities to professional IT firm in India.
Access to Advanced Technology: Technology is advancing everywhere and it has also advanced in the healthcare industry. But the domain of healthcare and/or medical organizations is completely different from Information technology. Such organizations may not be aware or have resources that recognize advances in web designing, software development and social media campaigning among others. This again underlines the need for outsourcing IT processes to experienced Indian companies. They will have access as well as expertise in all advancements of software, Data Engineering and Artificial Intelligence.
We hope this post has clearly outlined why healthcare firms such as you need to outsource IT related activities. Majestic People Infotech (MPI) is an experienced website design and software development company located in India. We have several years of experience in providing services to clients from across the globe. MPI also specializes in digital marketing, search engine optimization, database management, data engineering, machine learning, and artificial intelligence. Reach out to us to discuss your unique outsourcing requirements.