"A web design may be great but it is of less use to a business unless it is optimized to search engines."
This is true as the purpose of a website is to attract potential business from online visitors. But when there are thousands (if not more) of business websites that offer the same products or services; why should a web user visit yours? The question of "why" may depend on the unique strategies of each business, but the "how" is simpler and has been in the news for a long time. This is also highlighted in Google's latest algorithm update which states that the basic qualities required in a website to be features in top rankings include: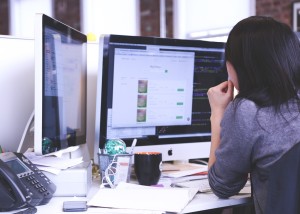 • Good content with apt keywords and with a tone that reflects the latest trends
• Visually appealing site structure with proper placement of menus and tabs
• Better User Experience
Here is each quality described in detail:
Content: This refers to everything on your website. It can include texts, images, graphics, videos, and even accurate meta-descriptions while indexing your site in search engines such as Google. The content of a website can be broadly defined as anything inside the designed structure. It is the voice if your website is a body. The content of a website should interact with website visitors as they could include prospective clients. Interaction here means that the content of your website shouldn't seem as wordings of an academic text book. Website visitors should see a solution in each line of the content. Besides, the content should be modelled for the target audience. For example, if you run an educational organization, the content should be suitable for students, parents, teachers, and other stakeholders. These characteristics are mandatory for your site's search engine optimization and also to grab the attention of online consumers.
Site Structure or User Interface: Your website's content should be properly organized. Visitors should be able to locate required information with ease. Besides, the site should be easily navigable and all content should be represented with short texts in different menus. In fact, the designing of such menus and placing them in right spots of the website also have valid importance. There are 8 types of navigation menus such as drop-down menus, hamburger menus, footer menus, and sidebar menus among others. The most apt one needs to be selected for your website depending on the amount of content it covers. Special consideration should also be given to ensure that your website is responsive to all devices include mobiles and androids.
User Experience: This is the process of creating products that provide meaningful and relevant experiences to users. User Experience is important because it tries to fulfill the user's needs. It aims to provide positive experiences that keep users loyal to the product or brand. Consider this illustrated example; a user is visiting your website. He is immediately greeted with an explainer video or a brightly colored homepage. He is then greeted by a chatbot inquiring what his purpose in visiting the website is. Then when he visits a particular page, a functionality which language he would like to view the content in. These are just some examples of good user experience on a website. In summary, User Experience is about personalizing the browsing experiences of each visitor.
These features mentioned above are necessary for a website to attract visitors and then effectively convert them to leads. It is not everyone's cup of tea and requires the services of an experienced website designing company. Majestic People Infotech (MPI) is a prime example of this as we give life to text, media files and functionalities of a website. MPI has always ensured that websites we design feature good content, organized site structures and an appropriate User Experience. Contact us or drop by our office to learn more.